Fluffy Paleo Sweet Potato Pancakes
Are you ready to fuel your day with a plate of delicious and nutritious goodness? Look no further than these Fluffy Paleo Sweet Potato Pancakes. Packed with natural sweetness and loaded with nutrients, these pancakes will satisfy your cravings while keeping you on track with your paleo lifestyle. Let's get flipping!
Check out our other pancake recipes!
How to do Fluffy Paleo Sweet Potato Pancakes
Ingredients
1 cup cooked and mashed sweet potatoes (about 2 medium sweet potatoes)
4 large eggs
1/4 cup almond flour
2 tablespoons coconut flour
1 teaspoon baking powder
1/2 teaspoon ground cinnamon
1/4 teaspoon ground nutmeg
A pinch of salt
Coconut oil or ghee for cooking
Optional toppings: Fresh berries, sliced bananas, chopped nuts, pure maple syrup (for a treat)
Instructions
Prepare the Sweet Potatoes:

Wash, peel, and dice the sweet potatoes. Steam or boil them until they're soft and easily mashable.
Mash the cooked sweet potatoes until smooth. Allow them to cool slightly before using.

Create the Pancake Batter:

In a large bowl, whisk together the mashed sweet potatoes and eggs until well combined.

Incorporate Dry Ingredients:

Add the almond flour, coconut flour, baking powder, ground cinnamon, ground nutmeg, and a pinch of salt to the sweet potato and egg mixture.
Mix everything together until a smooth batter forms. The batter will be thicker than traditional pancake batter.

Heat the Cooking Surface:

Place a non-stick skillet or griddle over medium heat. Add a small amount of coconut oil or ghee to prevent sticking.

Cook the Pancakes:

Once the cooking surface is hot, ladle about 1/4 cup of batter onto the skillet for each pancake. Use the back of the ladle to spread the batter into a round shape.
Cook the pancakes for 2-3 minutes on one side, or until small bubbles form on the surface.
Carefully flip the pancakes and cook for an additional 1-2 minutes on the other side, until they are cooked through and golden brown.

Serve and Enjoy:

Transfer the cooked pancakes to a plate and repeat the process with the remaining batter.
Top your paleo sweet potato pancakes with your choice of fresh berries, sliced bananas, chopped nuts, or a drizzle of pure maple syrup for a touch of sweetness.
Final Thoughts
There you have it, a stack of fluffy and flavorful Fluffy Paleo Sweet Potato Pancakes that will leave your taste buds dancing and your body energized. These pancakes are not only a tasty treat but also a great source of vitamins, minerals, and fiber. So, why wait? Whip up a batch of these paleo delights and embrace the power of real, nourishing ingredients. Happy eating and happy paleo living!
Shop our kitchen
Do you want to learn more about the stuff we use for cooking and in general to make our lives easier? If so, check out the things we use to make our lives easier.
Get our free cookbook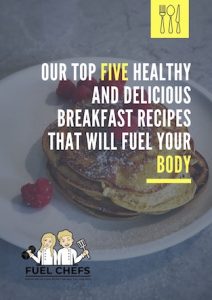 Get our top five healthy and delicious breakfast recipes that will fuel your body here.