Lean Protein Chicken Taco
Getting tired of the same old beef taco? Or maybe you're tired of chicken and rice? Or perhaps you're just looking for a more lean version of your normal taco?
Well, here is the chicken taco! ?
It is the perfect Friday dinner after a long work week and a great training session.
Super fast and, of course, delicious ?
All you need is chicken, tortillas and some vegetables of your own choice.
What you need
Chicken, either chicken breast, chicken breast slices or chicken thigh filet.
Remember that chicken thigh has a lot more fat in it than chicken breast does.
Tortillas/ Wraps
Vegetables: You can use whatever vegetables you want, we tend to use:

Cucumber
Tomatoes
Lettuce or similar
Red peppers
Green Onion

Chili & garlic to cook the chicken
Lime
What to do
Cut the chili, garlic and all the vegetables
Cook the chicken with garlic, chili, salt, and pepper.
You can cook the chicken either in a pan or in the oven. If you cook the chicken in the oven you should cook it with a thermometer so it doesn't get dry, cook to 68-70ºC. Also if you have the macros to spare adding some olive oil and/or sriracha sauce is a great idea ?
When the chicken is done, cut it into pieces.
Heat up the wraps either in a preheated pan or in the oven (we often use the grill function for this)
If you have the macros for it, adding a little bit of cheese on the wraps is super good!
Put it on either when the wraps are in the pan or oven so that it melts ?
Put all the vegetables and chicken in the wrap. Squeeze over some lime, and it is ready to eat!!
How to serve
I really like to serve this with just a little bit of lime, it adds a bit of an edge, and a little more excitement to the taco.
Also, if you have the time and want to, homemade salsa o goes great with this! We have a super easy homemade salsa recipe ?
Now, enjoy!!
Shop our kitchen
Do you want to learn more about the stuff we use for cooking and in general to make our lives easier? If so, check out the things we use to make our lives easier.
Get our free cookbook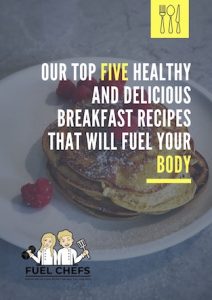 Get our top five healthy and delicious breakfast recipes that will fuel your body here.