High protein raspberry and banana smoothie bowl
We have been making these awesome casein smoothie bowls in order to fuel up on some slow protein before bedtime while keeping the fat and carbs under control. I must say, this raspberry and banana casein smoothie bowl is just perfect for that! It tastes good, makes sure you don't go hungry during the evening or night (we all know that happens while on diet…) and it will ensure you get those building blocks for all those gains!!  
As many of you surely know, casein doesn't have the best taste, but we have great experiences with using it either for pancakes or smoothie bowls like this one!
What you need:
90g of frozen raspberries (save some for topping)
One small banana (90g) (save som for topping)
30g of peanut butter
About 1 dl of cold water
35g of casein of your choosing (we went for strawberry milkshake)
20g walnuts
How to do it:
Put everything in the magic bullet or blender
Add about ½ of the water
Blend away! We use a magic bullet, just because it is easy to use, easy to clean and takes up almost no space. 
Add the rest of the water slowly, this is because you want just the right texture. Too much water and it becomes a juice, to little water and it becomes like a rock..you want neither, so add water piece by piece until you get it just the way you want it!
How to serve:
We served this one with walnuts, raspberries and banana slices as topping. You can of course add whatever other topics you want, but remember that this will impact the macros.
Personally, we think coconut, blueberries and strawberries sounds delicious too.
Total macros:
P 35g casein, F 25g, C 25g

Shop our kitchen
Do you want to learn more about the stuff we use for cooking and in general to make our lives easier? If so, check out the things we use to make our lives easier.
Get our free cookbook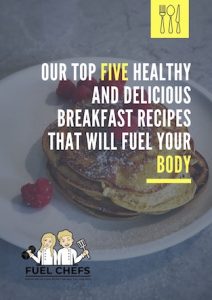 Get our top five healthy and delicious breakfast recipes that will fuel your body here.