Delicious and Nutritious RP Strength Diet Recipes
The RP Strength diet is a nutrition plan focused on eating whole, unprocessed foods that align with your body's needs. It emphasizes adequate protein intake and timing carb intake around workouts. Following the RP Strength diet requires some meal planning and preparation, but there are many delicious recipes to choose from. In this comprehensive guide, we'll provide our best mouthwatering RP Strength-approved recipes to add to your weekly meal plan.
An Overview of the RP Strength Diet
The RP Strength diet was created by nutrition coaches Dr. Mike Israetel and Renaissance Periodization. It customizes your macronutrient intake based on goals like building muscle or losing fat.
The diet focuses on these principles:
Eating enough protein – at least 0.8-1g per pound of body weight
Timing your carb intake around workouts for energy
Sticking to whole, unprocessed foods like meat, eggs, veggies, healthy fats
The RP Strength app makes it easy to track macros. You can follow the diet by planning meals and cooking at home. RP Strength Diet Food List will help you prepare before you go the grocery store. But bow let's look at some fantastic RP-friendly recipes!
RP Strength Breakfast Recipes
Breakfast is a critical meal on the RP Strength diet – it's when you break your overnight fast and refuel your body. Make sure to include 20-40g of protein. Here are some delicious RP breakfast ideas:
Protein Pancakes
Fluffy protein pancakes are a breakfast staple on the RP diet. Try this recipe with sweet potato and egg whites:
1 small sweet potato, peeled and grated
6 egg whites
1 scoop (25g) vanilla protein powder
1 tsp baking powder
1 tsp cinnamon
Mix all ingredients until combined. Scoop batter onto a hot griddle and cook like normal pancakes.
Veggie Egg White Frittata
Frittatas pack protein, veggies, and healthy fats into a convenient breakfast casserole. This egg white frittata is a great option:
10 egg whites
1 cup mixed vegetables (spinach, bell pepper, mushroom, etc)
2 tbsp feta cheese
Salt and pepper
Whisk egg whites and vegetables, then pour into a greased baking dish. Top with feta and bake at 400F for 15 minutes until set. Other recipes with eggwhites are our super tasty lean egg white omelet and our Spanish Tortilla that you will find in our free breakfast cookbook.
Protein Smoothie Bowl
Blend up a protein smoothie bowl for a refreshing, cold breakfast:
90g of frozen raspberries (save some for topping)
One small banana (90g) (save som for topping)
30g of peanut butter
About 1 dl of cold water
35g of casein of your choosing
Toppings like granola, berries, coconut
Blend the first 5 ingredients until smooth. Top with your desired crunchy toppings.
Overnight Oats
Make a batch of overnight oats for easygrab breakfast all week:
1/2 cup rolled oats
1/2 cup Greek yogurt
1 scoop (25g) vanilla protein powder
1/2 cup milk
Fruit, cinnamon, nut butter, etc.
Mix everything except toppings and refrigerate overnight. Top with fruit, nuts, cinnamon before eating.
Looking for more breakfast recipes? We have gathered some of our favorites.
RP Strength Lunch Recipes
Lunch is important for replenishing your body after the morning fast. Include 20-40g protein in your RP Strength lunch.
Chicken Zucchini Bowl
This chicken zucchini bowl provides perfectly portioned macros:
Chicken breast
Honey
Salt and pepper
Sriracha sauce
Zucchini
Turkey Lettuce Wraps
Lettuce wraps make the perfect high protein, low carb lunch. Try this recipe with whole turkey:
1 whole turkey
4 Chili & jalapeños
2 Green & red peppers
Thyme
1 1/2 Garlic
4-6 Red & shallot onions
3-5 spoons of Olive oil
Salt
Pepper
Cumin
2 Sweet potatoes (depends on how many you are)
Vegetable stock (for the sweet potato mash)
Serve spoonfuls wrapped in lettuce leaves.
Mason Jar Salad
Pack mason jar salads for grab-and-go lunches:
Chickpeas
Diced cucumber
Cherry tomatoes
Bulgur wheat or quinoa
Lemon juice
Olive oil
Leafy greens
Layer ingredients in a jar in the order above. Shake to mix when ready to eat.
intermittent fasting
Some people prefer to practice intermittent fasting and skip lunch altogether. Have an early dinner or eat again later in the afternoon.
RP Strength Dinner Recipes
Dinner is a time for replenishing your body after an afternoon of activity. Get at least 25-50g protein with wholesome RP meals like:
Beef and Broccoli Stir Fry
Try this beef stir fry over cauliflower rice:
400 gram of sliced beef
A green bell pepper
1 Garlic cloves
Salt and pepper
1tbsp ground cumin
Some fresh veggies
Small tortillas
Some hot sauce
Serve over riced cauliflower or rice.
Sheet Pan Salmon
Sheet pan salmon with veggies is super simple:
Salmon fillets
Chopped Brussels sprouts
Diced sweet potato
Diced zucchini
Olive oil, salt, pepper
Toss veggies in olive oil and seasonings. Roast at 400F for 15 minutes then add salmon and cook 10 more minutes.
Slow Cooker Chili
Set this slow cooker chicken before work in the morning:
1 whole chicken
7-10 whole Garlic cloves (depending on strength and taste buds)
3-4 Chilis (depending on strength and taste buds)
Fresh thyme
Butter (you can skip this)
4-6 Red or shallot onions
Salt & Pepper
Paprika spice
Cumin spice
2-3 Carrots
8-10 Mushrooms
Combine everything in the slow cooker on low for 2-3 hours.
Cauliflower Pizza
Make a protein-packed cauliflower pizza crust:
Grated cauliflower
1 egg
Shredded mozzarella
Pizza toppings like chicken sausage
Press cauliflower into a pizza crust, top, and bake 15-20 minutes or check out our tortilla pizza.
RP Strength Snack Ideas
Snacks on the RP diet provide an easy way to increase protein intake between meals. Try these tasty high protein snacks:
Edamame
Boiled edamame provides an easy 10g of plant-based protein per serving.
Cottage Cheese
1 cup cottage cheese has around 25g protein. Eat with fruit.
Jerky
Beef or turkey jerky offers 10-15g protein per ounce.
Protein Muffins
Blend protein powder into muffin batter and make a batch on Sunday.
Protein Bars
Look for bars with at least 10g protein and minimal added sugar.
Hard Boiled Eggs
Make a batch of hard boiled eggs each week for an easy protein source.
Greek Yogurt
Top plain Greek yogurt with berries, chia seeds, or granola.
Cheese & Crackers
Enjoy 1 serving of cheese with whole grain crackers.
RP Strength Dessert Recipes
You can enjoy tasty treats that fit the RP diet in moderation. Focus on recipes made with whole foods instead of processed junk.
Protein Mug Cake
This chocolate mug cake is ready in minutes:
2 tbsp almond flour
2 tbsp chocolate protein powder
1 egg
1 tbsp cocoa powder
1 tbsp sweetener like monk fruit
splash of milk
Mix all ingredients in a mug and microwave 1 minute.
Chocolate Avocado Mousse
This chocolate mousse is naturally gluten free:
80g of frozen avocado
35g of chocolate casein of your choosing
About 1 dl of cold water
20g Walnuts
Blueberries
Blend all ingredients until smooth and creamy. Chill 1 hour before serving.
Frozen Yogurt Bark
Make this yogurt bark with your favorite fruits:
1 cup Greek yogurt
1 scoop vanilla protein powder
1/2 cup mixed berries
Spread yogurt mixture onto a parchment-lined baking sheet. Freeze 1 hour then break into pieces.
Protein Cheesecake
This cheesecake uses protein powder and cashews:
Crust:
1 cup cashews
2 scoops vanilla protein powder
3 tbsp coconut oil
Filling:
16oz cottage cheese
8oz cream cheese
2 scoops vanilla protein
3 eggs
1 tsp vanilla
1/4 cup monk fruit sweetener
Tips for Meal Prep Success on the RP Diet
Meal prepping your RP diet recipes on Sunday sets you up for success all week long. Follow these tips:
Cook protein: Roast chicken, cook ground turkey, sear steak, grill salmon – prepare versatile protein for the week.
Prep produce: Chop veggies and fruit, wash greens, cook potatoes and sweet potatoes. Having ingredients prepped saves time.
Make big batches: Double recipes on the weekend so you have leftovers to quickly assemble meals.
Portion ingredients: Weigh and measure proteins and carbs into individual containers for fast meal assembly.
Freeze extras: Cooked proteins and prepared produce freeze well for future weeks. Frozen meals heat up easily too.
Have grab-and-go options: Mason jar salads, overnight oats, boiled eggs, and cut fruit make life easier when you're rushed.
With a well-stocked kitchen and some weekend meal prep, you'll have healthy RP diet recipes to fuel your week.
FAQs About the RP Diet
What are the different phases of the RP diet?
The diet starts with a 2-12 week aggressive fat loss phase where you eat in a calorie deficit with timed carbs. The second phase slowly increases carbs and calories for a lean bulking period. The final phase focuses on maintaining muscle and body composition.
How many calories should I eat on the RP diet?
Calorie needs are highly individual – the app calculates them for you based on factors like weight, activity level, and goals. Expect to eat around 2000 calories for fat loss or 2500-3000 for bulking.
What about cheat meals?
Cheat meals are not recommended but if that is what you need to continue to stick to the diet it could be a solution. The problem is shelden one cheat meal or one skipped workout. It is the second and the third. I would recommend to stick to the diet and shuffle some macros around and save for the thing that you crave or try to find a low calorie version.
Can I exercise on this diet?
Yes, combining the RP diet with strength training and cardio exercise is recommended for optimal fat loss and muscle growth. Time your carb intake around workouts.
What if I'm vegetarian or vegan?
You can successfully follow the RP diet principles as a vegetarian or vegan. Focus on getting enough protein from plant sources and sprouted grains.
How do I stay motivated on the diet?
Make a meal plan, prep food in advance, and track your progress. Having RP-approved recipes, foods, and snacks on hand helps you stick to it. Get an accountability partner and connect with the RP community.
Can I drink alcohol on the RP diet?
Alcohol is not optimal. If you really need to limit intake to 1 serving max per day and avoid drinking at multiple occasions. Prioritize calories from whole foods over empty alcohol calories.
What if I hit a weight loss plateau?
If you stop seeing progress, troubleshoot by tracking calories closely and adjusting your intake if needed. Take a rest day or two and try to get more sleep can help.
How do I transition off the diet?
Gradually add in minimally processed carbs and decrease protein intake slightly while maintaining a mild calorie deficit and strength training. Weigh yourself weekly and adjust if needed to preserve your physique gains.
Can I build muscle on the RP diet?
Yes, the diet supports muscle growth by providing sufficient protein, carbs around workouts for energy, and a calorie surplus. Follow the bulking phase guidelines and continue strength training.
Is the RP diet sustainable long term?
The RP diet is very flexible and can be followed as a lifestyle. The focus on whole foods, protein, and vegetables makes it more sustainable than restrictive plans. Customize it to fit your needs. But cutting for a long time is not recommended.
How is this different from keto or paleo diets?
RP allows carbs, especially around workouts. It's more flexible with dairy, legumes, and whole grains than paleo. RP customizes nutrition to your body and goals rather than one-size-fits-all.
Start Cooking RP Strength Recipes
The RP Strength diet provides a flexible, customizable approach to reaching your goals. Fill your meal plan with the delicious recipes in this post, take advantage of meal prepping, and see the positive effects of this diet strategy. Don't forget to enjoy the process of cooking and eating nourishing foods!
More Tips for RP Diet Success
Here are some final tips to help you implement the RP diet successfully:
Utilize the RP Strength app – the app makes tracking calories, macros, and timing nutrition effortless. It contains a huge database of foods and recipes as well.
Learn proper portion sizes – get familiar with appropriate serving sizes for proteins, carbs, and fats. Weighing and measuring your foods helps with portion control.
Drink plenty of water – hydration is key for appetite control, digestion, workout recovery, and health on this high protein diet. Aim for at least 2 liters of water daily.
Get enough sleep – sleep is critical for energy levels, hunger hormones, muscle recovery, and performance. Try to get 7-9 hours per night.
Manage stress – find healthy stress relief like exercise, meditation, yoga, or talking to a friend. High cortisol can negatively impact weight loss efforts.
Add cardio – incorporate metabolic conditioning or HIIT sessions in addition to weight training for accelerated fat burning results.
Try intermittent fasting – fasting for 14-18 hours daily can make sticking to calorie targets easier on this diet.
Make it a lifestyle – the RP diet teaches principles for lifelong healthy eating. With practice, it becomes second nature.
With commitment to the core RP diet principles, smart meal planning, and a positive mindset, you'll be on your way to achieving your health and fitness goals!
Shop our kitchen
Do you want to learn more about the stuff we use for cooking and in general to make our lives easier? If so, check out the things we use to make our lives easier.
Get our free cookbook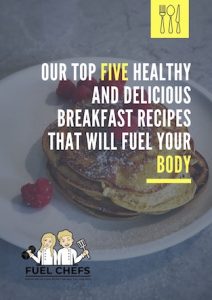 Get our top five healthy and delicious breakfast recipes that will fuel your body here.