Super tasty lean egg white omelet
Looking for a low fat, high protein breakfast that still tastes good? Heard only bad things about egg white omelets? Trust me, egg white omelets can be really really good! You just have to do it right ?‍?
This egg white omelet is perfect if you crave something tasty for breakfast. With this omelet, you'll also get quite a lot of food, so it'll keep you full or a long time! ?‍♀️
All you need to make this breakfast is egg whites, two eggs, and vegetables. 
A lot of people frown their noses when I say egg white omelet, but that tells me they've never tasted one! Egg white omelet is really not that different from a normal omelet and with vegetables, you add some crunch and freshness to it. One of the things I personally like the most about the egg white omelet is how flexible it is. You can basically adapt it to any kind of macros.
This one I made with 2 eggs, but you can easily remove these if you want another fat source or are cutting down on fat. The eggs add some taste, but not that much, so you can easily do without them ?
What you need
225g of egg whites
2 (100g) whole eggs
120g broccoli
35g green onion
120g mushrooms
120g zucchini
Salt, pepper and some chili spices
What to do
Cut up the mushrooms, zucchini, green onion, and broccoli. You want to cut the green onion in pretty small pieces, but the rest in medium/ normal pieces.
Put all the cut vegetables in a bowl
Add the eggs and the eggwhites
Mix it all together
Add the spices and mix again
Pour the omelet into a preheated pan
Let it cook for some time, divide it into 4 equal parts in the pan with your spatula (doing this early and a couple of times before you flip it makes it easier to divide and flip ?)
When the omelet has a nice brown crust flip the omelet over to the other side
Turn down the heat a little bit so the omelet doesn't burn
When it is firm it is ready to be eaten
How to serve
What I serve this omelet with really just depends on my macros. If I have the macros for it I add some avocado, a piece of bread, some mayo, or fresh tomatoes.
Enjoy! ?
PS. if you're looking for some more inspiration for breakfasts or on egg white omelets check out our free recipe booklet with 5 breakfast recipes.
Shop our kitchen
Do you want to learn more about the stuff we use for cooking and in general to make our lives easier? If so, check out the things we use to make our lives easier.
Get our free cookbook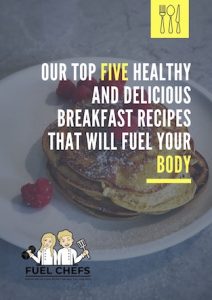 Get our top five healthy and delicious breakfast recipes that will fuel your body here.