Slow-Cooked Whole Chicken
Ever made a whole slow-cooked whole chicken? You think it's hard or messy so you've never bothered? I'll let you in on a secret, it's not! And if you use a crockpot it is probably one of the easiest things you can make..! It takes very little effort, and it does, of course, taste awesome!! ?
You don't need much to make this. You need a whole chicken, a crockpot, some olive oil, bouillon, and whatever vegetables you like.
What is also great about this is that you use the whole chicken, so you reduce food waste. But also by using the whole chicken, you get a lot of healthy collagen in your food. Collagen is important for your skin and bones. But since collagen is found in the skin and bones we usually don't get enough of it.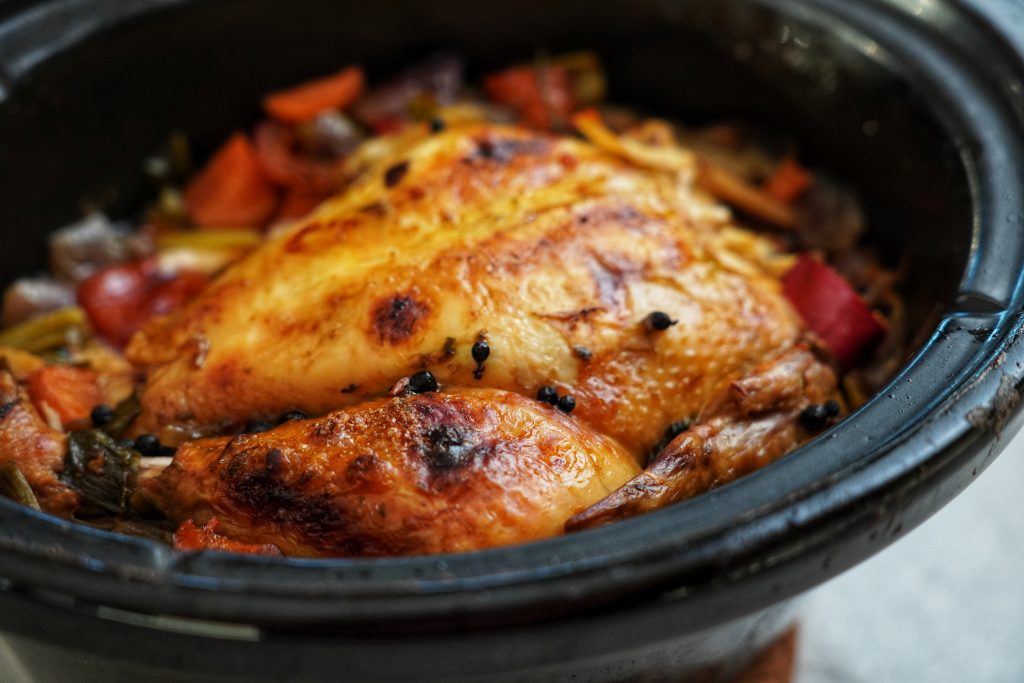 Both Tobias and I do, in periods, add collagen protein to our diet. We especially do it if we have issues with our knees, shoulders, hips, or other joints or bones.
Anyhow, here is what you need to make a slow-cooked chicken in your crockpot?
You don't have a crockpot? Don't despair, here is the perfect recipe for a slow-cooked chicken for you ?‍?
You can also check out our Youtube video to get a closer look at how we did it ?
What you need
A whole chicken
4 carrots
3 spring onions
2 red onions
2 tomatoes
1,5 small garlic
4 chilis
Ginger
1/2 lemon
Salt & pepper
Olive oil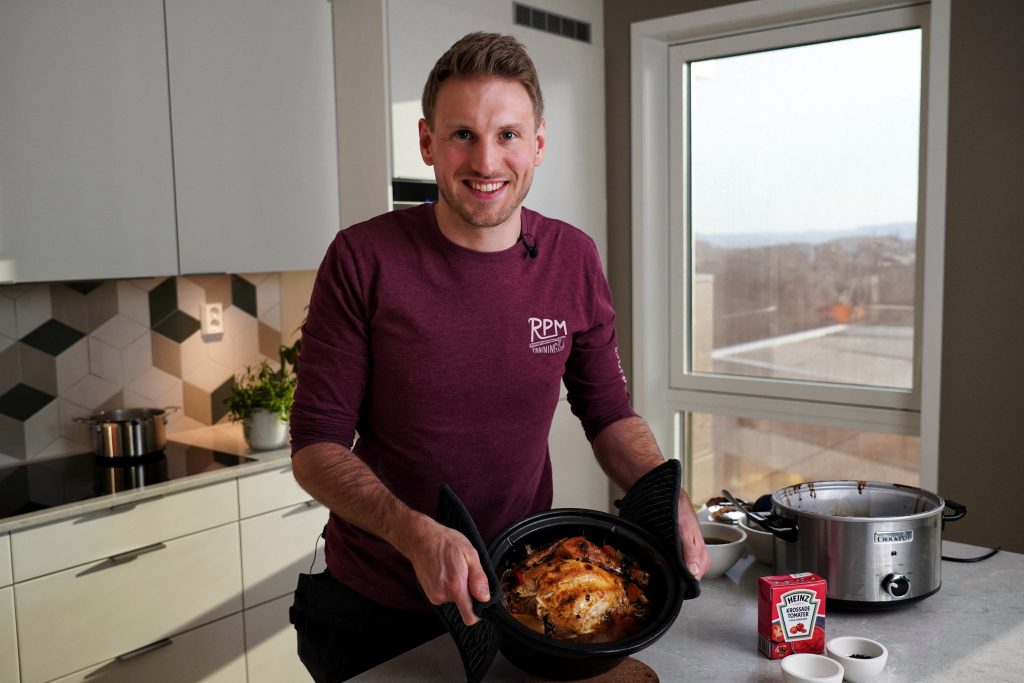 How to do it
Chop up all the vegetables, you don't want to chop the pieces too small because you want to keep the texture after they're cooked as well.
Add some olive oil to the crockpot.
Put some of the vegetables, what you can fit, into the chicken.
Put about half, of the rest, of the vegetables in the bottom of the crockpot.
Add the chicken to the crockpot.
Add the rest of the vegetables on the sides and on top of the chicken
Turn the crockpot on low heat and let it cook for as long as you can.
It is important to let the chicken cook for as long as you can, this way it will be pulled and very juicy. Preferably you'll leave it for about 6-8 hrs.
When you're able to pull off a leg or similar, it is finished.
Turn your oven to grill, ours has a scale of 1-3, we turn in on 3.
Then remove some of the broth and vegetables and put the chicken in the oven. Make sure to, it might seem obvious, not put the entire crockpot in the oven, just the iron cast part.
Leave it for a short while, until it gets crisp on top
Remove the chicken from the oven and serve it hot ?
How to serve
This is best served hot and straight away!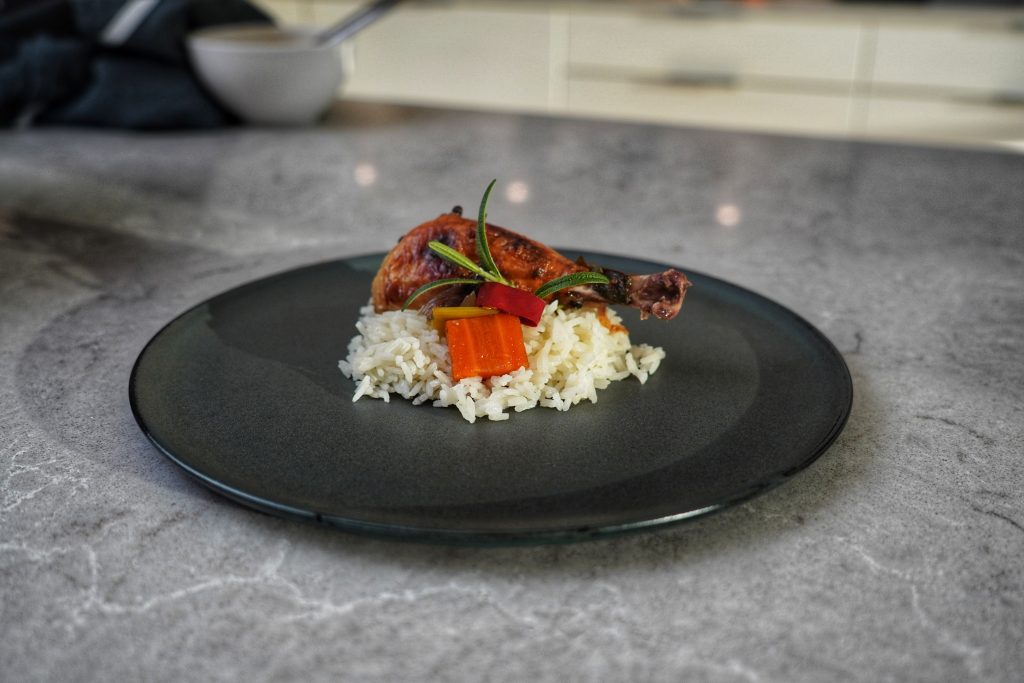 However, you can also put what you don't eat in the refrigerator and just heat it up for dinner or lunch. We usually eat whatever we have for dinner and then put the rest in the refrigerator and have it for lunch, dinner or use it for food prep another day ?
We usually have slow-cooked chicken with vegetables, a light salad or some rice. All is very good, so here you can just pick whatever you like and fit your macros.
AND on the topic of macros. Beware that a whole cooked chicken does have more fat than for example chicken breast, this is partly due to it being a whole chicken, so different parts have a different fat percentage.
But also the fact that the broth is quite high on fat and also the skin. So just be mindful of when you make this, what parts of the chicken you eat and how much you eat ?
But, enough with the macro talk, now enjoy!

Shop our kitchen
Do you want to learn more about the stuff we use for cooking and in general to make our lives easier? If so, check out the things we use to make our lives easier.
Get our free cookbook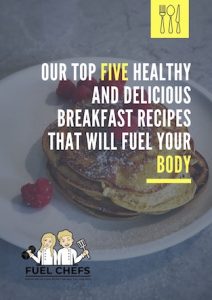 Get our top five healthy and delicious breakfast recipes that will fuel your body here.