Poké bowl – flexible and beautiful
Have you looked at those beautiful instagram photos of a Poké bowl and ever wondered how they can make something that tasty and savory? Well, follow this recipe and you'll get there. 

Poké bowl is a Hawaiian dish and works great with dieting, it is flexible and can be adapted to any fit any macros or diet plan, and it is nutritious, you're basically eating the rainbow. 

The main source of carbohydrates is rice while the main source for protein is seafood, in this recipe we used salmon, but you can also use tuna or scampi/prawns. The main source for fat is the salmon and/ or a little chili mayo. Here you can combine the different food sources so that it will fit your diet plan and macros.

Hot Tip! If you want tuna in your Poké bowl, which we do, we recommend seared (cooking it fast on each side, read here for how to do it). It'll take you a bit longer, but it is definitely worth the wait. This is a great alternative too salmon if you want to cut or save the fat. 
Poké bowl with tuna and scampi
What you need for the Poké bowl: 
White rice (according to your macros)
Salmon (according to your macros), we used Norwegian brand Salma
Cucumber 
Broccolini
Green peppers 
Sprouts 
Lime
Spring onion 
Cilantro / Coriander 
Chipotle chili mayo
Mango  (according to your macros)
Avocado (according to your macros)
Important! Since you're eating the salmon raw you must make sure ut can be eaten raw, this usually says on the pack if you buy it in the store, but always ask to be sure.
Also, remember that farmed fish has more fat per 100g than wild salmon, plus wild salmon tastes better! But be aware that with wild salmon you need to take some extra precautions before you eat it raw.

What to do:
Boil the rice
Chop up all the vegetables, you'll want to cut the pieces quite long (about 4-6 cm) and thin 
Cut the salmon into thin slices
Put the finished rice in a bowl, then add vegetables and protein
Top off with a little chili mayo (you will not regret saving your fat for this!)
How to serve:
We serve this with nothing except from love and tender care.
Macros:
For this serving (the picture) it was:
P 35g, F 5g, C 25g (not counting the fat in the salmon..)
Shop our kitchen
Do you want to learn more about the stuff we use for cooking and in general to make our lives easier? If so, check out the things we use to make our lives easier.
Get our free cookbook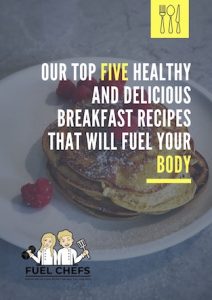 Get our top five healthy and delicious breakfast recipes that will fuel your body here.