Thinking of starting on the RP diet app? But you want to know a bit more before you commit? Here we have collected what we think are the pros and cons of the RP Diet app. 
Before we dig in, we are in no way, neither as individuals nor through FuelChefs, affiliated nor associated with RP Strength (renaissanceperiodization.com). We are neither RP Strength employees nor health professionals. Nor is this an advertisement. We are consumers and customers of RP Strength who simply wish to share our personal experiences with those who are interested. All content on this site (Fuelchefs.com) is our personal experience and opinions.
We have both used the RP Strength app and the RP Strength template, and we have lost weight on both. If you are curious we have previously done a comparison of the two. We have also done a comparison of the MyFitnessPal app and the RP Strength app as well.
You an also check out our review of the RP diet app on YouTube.
Anyhow, let's dig into the pros and cons ?
RP Diet App Pros
1. Personalization
When you install the app you configure it with your personal information. You register your current weight, how much weight you want to lose, your body type, how much & what days you want to work out (this can be changed) etc.
Based on this the app creates a diet for you. You also register your wake-up time, training time, etc. That way the app can schedule your meals right?
2. Meal timing
Meal timing is an important part of the RP Strength diet, rule of thumb is to eat within about 45 min of your meal. In order to remind you of this, the app will notify you of when it's time to eat ⏰
Based on your setup the app plans out your meals for each day. So if you're going to work out at 4 o'clock. The app will plan your meal so that it fits that routine and ensure you get the right amount of carbs, protein, and fat before and after your workout.
3. Food planning
Food logging vs food planning.
This is important because whether you log your food after you've eaten or plan & weigh your food before can make or break your diet!
Logging your food can be a good tool, but only if you combine it with planning. The reason why is that if you log after you've eaten, you've already eaten it, and it is impossible to adjust.
However, if you plan what you're eating, log or register it and then eat you'll know before you eat how much you can eat of which foods.
The RP diet app calculates for you how much you can eat of the different foods and plan out your meal for you. That way you'll get exactly the macros you need for that meal! 
4. Diet plan & coach
The RP Diet App is so much more than just a diet app, it's actually a diet plan and a diet coach.
When you register your personal information, goals, etc you get a finished diet plan.
Furthermore, due to the interactivity of the app, it is like having a diet coach. The app will ask you to weigh in, check-in your meals, remind you to eat, and suggest potential adjustments to your plan depending on your result and goals.
5. Healthy lifestyle
When you use the app you can register all kinds of food, you can even save your own foods.
However, the app encourages you to eat healthy unprocessed foods by already having a finished food list you can choose foods from.
By using this food list you avoid processed foods, so the app forces you into a healthier lifestyle that will ensure you get not only healthier but will also contribute to you losing weight.
6. Meal planning
I use way less time cooking my meals now than before ?? Simply because the app helps me calculate how much I am eating. All I need to decide is what to eat and the app calculates the rest.
This means less time for cooking and calculating how many grams of sweet potato you can have, and more time for eating ? and other fun stuff!
7. Balance between macros
The app ensures a healthy balance between the macros.
Before I started on RP Strength I have to admit, I was a tiny bit scared of carbs. After using RP for several years and through two diets I have learned so much more about macro balance, and how important the different macros are for different purposes.
I've also learned a lot about the timing of the different macros, when fat is important, when carbs are and when protein is. This is also very good knowledge to bring with you when you've finished the diet as well.
8. PR While on a diet
Both Tobias and I have actually done PRs several times while on RP! ?️‍♀️?
I have set new PRs in almost everything while on RP: deadlift, back squat, bench press, clean&jerk. Normally, when you're on a diet you're a bit exhausted, and I am at days, but I think the meal timing and the macro balance is what really does the trick here!
9. Responsible dieting
The RP Strenght app encourages responsible dieting! Personally, I really like this about RP Strength in general.
They are very clear on how much time you should have between cuts and how long you should cut, and they have included all this logic in the app!
If you start a new diet too soon, you'll get a warning (you should have some time between the different cuts to ensure it is not unhealthy).
It will ensure that you do not commit to cutting more weight than what is responsible and sustainable during a period of time.
So, when you set a weight loss goal it will suggest end dates that are responsible. It will rate your diet as well e.g. very hard, and make sure that you know what you're committing to.
10 Dietary needs
The RP Strength diet works for all types of diets whether you're vegan, vegetarian, paleo or have allergies etc.
The app has a filter as well that you can apply so you only choose between the foods that fit you!
RP Diet App Cons
1. Rigid
The RP diet app is a pretty rigid app. The app is centered around meals, and you can't register in anything outside the meals that you're eating.
So let's say you're a snacker, like me ?there is nowhere to register what you eat. This can be a good thing, because it forces you to stop snacking, which can be your worse enemy when dieting. Or it can be the worse thing because if you eat something, you don't have anywhere to put it.
So, you can't subtract it from your total macros, unless you log it as part of another meal.
2. Flexible dieting
There is no flexible dieting with this app.
With other apps I've used, such as MyFitnessPal you log something as part of a day and it will be subtracted from the total amount of macros for that day. Or sometimes you can even view it as part of a bigger picture, like a week.
In the RP Strength app there is one meal at the time, and really no way to adjust or be flexible about the macros. This can be a little frustrating at times. But I guess this is part of why the app works ?
3. Huge breakfasts
Personally, I think the breakfasts are too big and too early. It is too much food for me to eat in the morning.
If I change up the foods, for example, eat sourdough bread instead of green vegetables (which is a lot more volume) I don't get enough volume and I won't get full enough, so I get hungry too fast. So, I end up eating my humongous breakfasts and sometimes eating for 30 min to 1 hr..just because I can't eat it all at once ? However, you'll get used to the big breakfasts after some time.
4. Huge & late night meal
I love the night snacks that I get while on RP Strength (this should have been in the pro section perhaps.. ?)!! ? Buuut the night snacks are humongous and too late for me in order to get a good night's sleep.
In order to avoid eating too much food I sometimes eat more for dinner. However, I know that the meal timing and macro balance are important, therefore I really don't like making adjustments to the meals.
5. Cost
The app has a monthly or annual payment.
If you purchase it for a year you'll get a bit cheaper than if you pay per month. If you choose the template you'll only pay once, and other apps you can even get for free.
7. Barcode scanner & restaurant feature
The barcode scanner and restaurant feature is probably a great feature, but it doesn't work in Scandinavia. Sometimes I find stuff here that works, and think that's because those are things that is normal in the US.
I suppose they just haven't registered things that they don't have or isn't normal outside the US. Anyhow, this would have been a great feature to be able to use!
8. American food choices
The app is made in the US and the food options reflect that. So does the barcode and restaurant feature.
A lot of the foods on the food list we don't eat because they're not available here, or it's just not normal.
The good thing is that there is a favorite feature plus a filter, so that lets you remove some of the choices. There is also a feature that lets you register your own foods, so if you can't find your foods you can register it manually. However, the fact that I don't have to do that and that you can use minimal time making food is what I really like about this is app.
9. Configuration
Sometimes I'm not sure if the app is configured right, for example, it calculates carbs in cheese.
At least here in Scandinavia, there are no carbs in cheese, so this is a bit annoying. This also goes for other food sources.
I guess it's not a big deal, it's just annoying when you're pretty hungry and just want to eat as much as you can.
10. Rounds up
Also, the app counts per 5g and always rounds up! This is very annoying when you combine different macro sources in a meal. Often I end up reading the packaging and calculating myself how much I can eat, taking the other macros into consideration of course ?
11. Weigh everything you eat
The last point is that you have to weigh everything you eat!
This is the way it is with a lot of diets. However, there are diets where you don't have to weigh this meticulously, for example, the keto diet.
But weighing your food is part of being on a diet, it is a lifestyle. It can be a hassle and it can be annoying, but it is something you probably just have to embrace.
Conclusion
There are definitely good and bad things about the RP Diet app. At the end of the day, you have to choose what you believe is best for you. 
Both Tobias and I have lost weight on both the RP Strength template and the RP Diet app. 
There are some annoying things about the RP App, but it will be that with all diets and all apps! 
However, I don't think the cons outweigh the pros at all, this is a great tool to help you lose weight. And the one major plus, that we don't have as part of the review since it's more about the diet is that the diet (and app) really really works!!
When I was starting my new cut about a month ago, with no hesitation I decided to go with the app. The reason is that the app is very convenient, I always have my macros with me, which means that unless I want to, I don't have to food prep that much.. Also it calculates the amount of food I can eat based on the food combination for me, this saves me tons of time, and I think this is too much of a hassle on the template.
I also really like the flexibility of the RP Diet App itself, I am often very active without working out. We often go ski touring, singletrack riding, hiking, downhill biking, you get the picture, and the option to register this as an active day has great value to me. I feel like the macros fit me a lot better that way. 
At the end of the day what diet app, template or coach you want to go for is your choice. I hope this review has helped you on the way to make your decision.
Good luck ?
Shop our kitchen
Do you want to learn more about the stuff we use for cooking and in general to make our lives easier? If so, check out the things we use to make our lives easier.
Get our free cookbook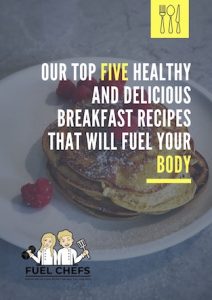 Get our top five healthy and delicious breakfast recipes that will fuel your body here.