Ever wanted to make that delicious seared tuna you see in photos or get served at restaurants?
Well, we'll teach you how to make that at home! And you know what the best part is? It is much easier to make than you'd think, and it tastes even better at home.
What you need:
Tuna filet
Rice
Butter
Salt and pepper
Cucumber
Spring onions
Red pepper
Chilimayo
You can use any kind of greens on the side of course, these are just the ones we prefer to have with tuna.
What to do:
Boil water and cook the rice
You want the rice to be done right before you start cooking your tuna (if it's done long before the tuna make sure to keep it warm , you dont't want cold rice)
Chop all the vegetables in slices
Add salt and pepper to the tuna
Heat up the pan and add butter, make sure the butter don't burn
When the pan is really hot you add the tuna (it can get smokey, so make sure you have a good fan or air properly so the fire alarm won't go off..that will quickly render you tuna burnt)
Fry the tuna for 1-2 min on each side, the clue here is that you want the tuna raw in the middle, so pay attention and when the crust is about 0,5 cm thick on that side, then turn it over. When its the same on the other side its done!
Let it rest for a couple of minutes and cut it into even thin slices (about 1 cm)
Add rice and vegetables to the plate, then add the tuna.
Sprinkle some salt on top of the tuna, add some chilimayo and VOILA it's ready to eat!
Enjoy!

Shop our kitchen
Do you want to learn more about the stuff we use for cooking and in general to make our lives easier? If so, check out the things we use to make our lives easier.
Get our free cookbook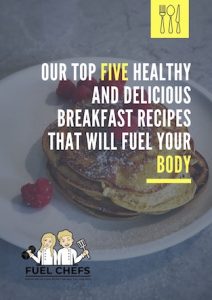 Get our top five healthy and delicious breakfast recipes that will fuel your body here.