Slow cooked chicken – for those busy days
Cooking a whole slow cooked chicken is easier than you think, and excellent for those busy fall & winter days! All you need is, well, a whole chicken and either a crockpot or a cast iron pot. We have this one from Le Creuset, and we love it. Totally worth the investment as we use it for all sorts of cooking, this awesome bolognese is also made in our Le Creuset.
Aanyhow, enough talk about pots, back to this delicious slow cooked chicken we've promised you!
What you need:
1 whole chicken
7-10 whole Garlic cloves (depending on strength and taste buds)
3-4 Chilis (depending on strength and taste buds)
Fresh thyme
Butter (you can skip this)
4-6 Red or shallot onions
Salt & Pepper
Paprika spice
Cumin spice
2-3 Carrots
8-10 Mushrooms
What to do:
Preheat the oven to 225°C (440°F)
Clean the garlic cloves
Chop the chilis in large pieces
Chop the shallot onion in large pieces
Chop the mushrooms on large pieces, maybe in 4 or 6 depending on size
Peel the carrots and chop them in large pieces
Put the chicken in the cast iron pot (or the crockpot)
Stuff the chicken with all the vegetables incl chili and garlic, what don't fit can be just put in the pot
Also add some garlic and chili in the pot
Add salt, pepper and paprika spice (and other spice if you'd like)
Pour over some olive oil, and smear in all the spices, garlic and chili
Use a cheese slicer (link) to make thin slices of the butter, add 6-8 slices on top depending on the size of the chicken, the chicken should be covered. You can also add some butter inside the chicken. We often skip the butter if we want to keep it leaner. Sometimes we skip the olive oil, but it is important in order for the chicken to not become dry.
Put the lid on the pot and put it in the oven
Let it cook in the oven for about 2-3 hours, if you want it can stay longer.
When it is done it will resemble pulled meat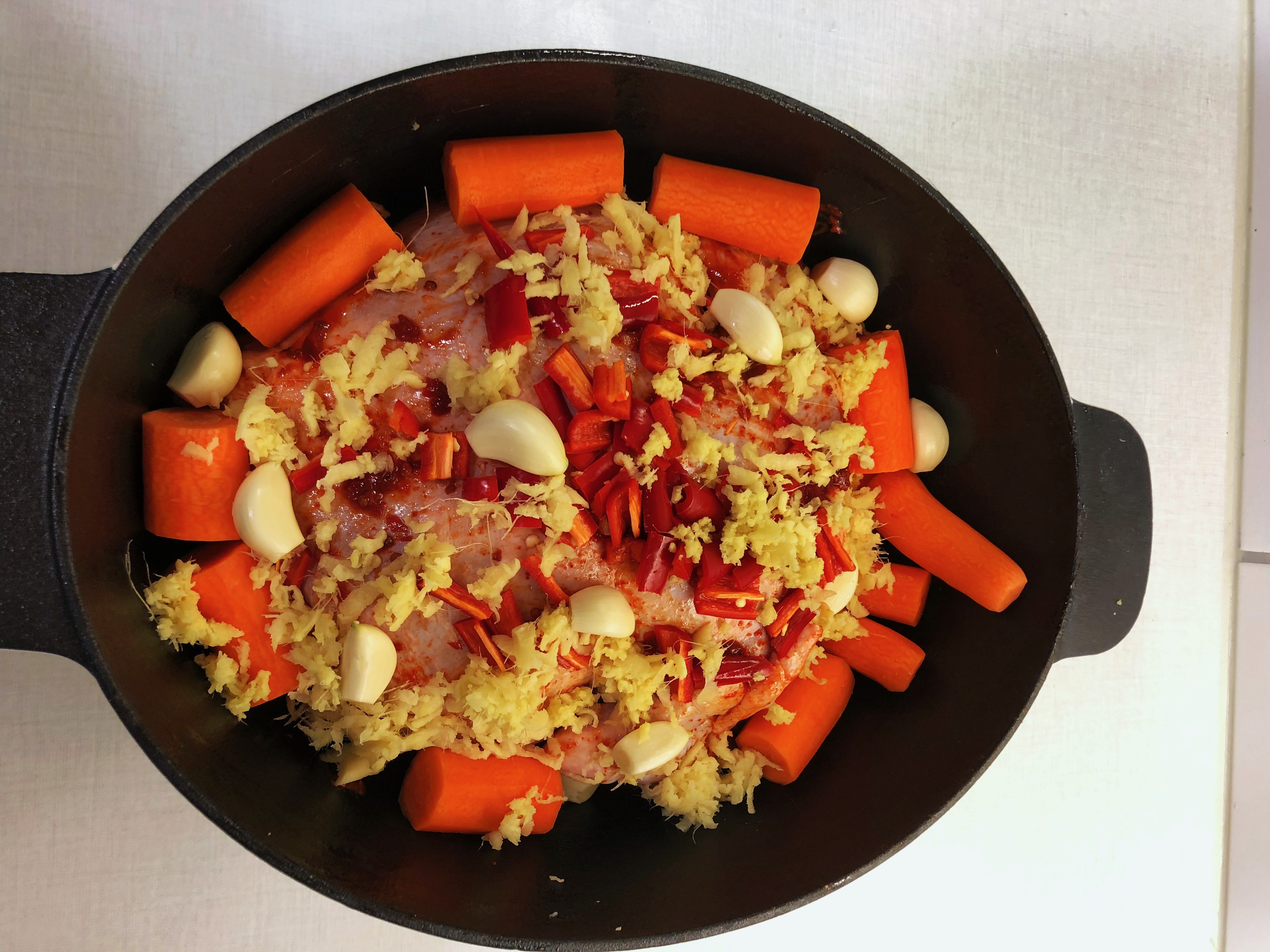 When you make chicken this way you can almost add any vegetables you'd like. Only thing you should keep in mind is that it will be cooked for several hours, so anything that falls into pieces might not be that tasty. You'd want to aim for vegetables that are quite "hard" and has a lot of taste, like carrots, onions, mushrooms etc.
How to serve:
This, like all chicken, is served best while warm. We like to serve it with a sweet potato mash or sweet potato fries, and with some fresh vegetables and maybe a dash of creme fraiche/ sour creme.
The chicken can be stored in the fridge and you can heat up parts of it or the whole chicken. However, we recommend not re-heating more than once. What we usually do is keep it in the fridge and take what we want to eat and reheat only that.
If you are on a strict diet you can still make this, AND eat it. Most of the fat is in the skin. Breast filet has 1% fat and thigh has 9% fat. As mentioned above you can also cut the butter out, but we really recommend some olive oil to make sure it doesn't get too dry.
Happy cooking and enjoy.

Shop our kitchen
Do you want to learn more about the stuff we use for cooking and in general to make our lives easier? If so, check out the things we use to make our lives easier.
Get our free cookbook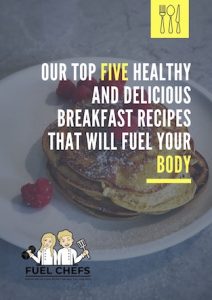 Get our top five healthy and delicious breakfast recipes that will fuel your body here.